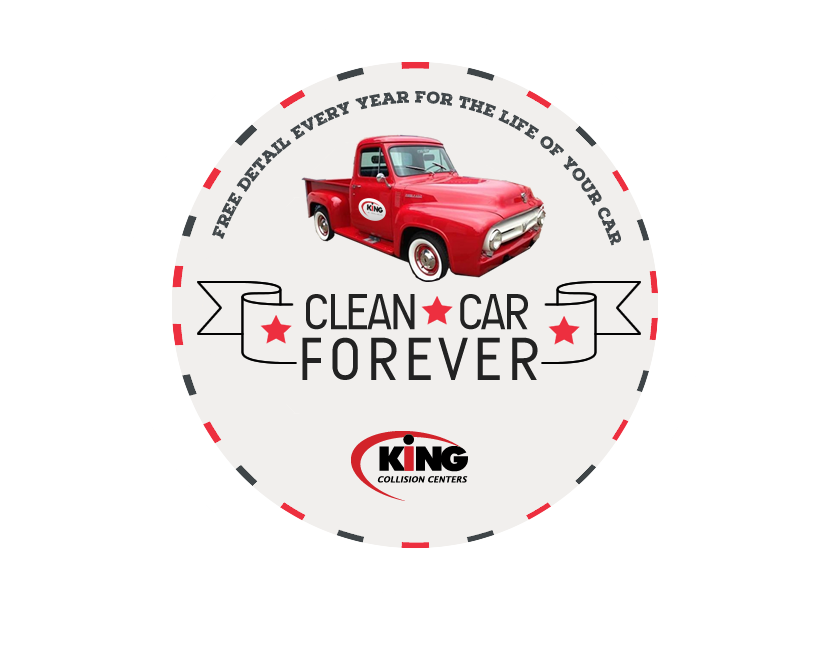 All vehicles repaired at King Collision Centers receive one free detail & cleaning every year for as long as it's on the road.*

HAND WASH EXTERIOR
HAND DRY EXTERIOR
CLEAN TIRES
VACUUM INTERIOR
CLEAN GLASS & SUNROOF
CLEAN DASH & CONSOLE
CLEAN TRIM PANELS
CLEAN DOOR JAMBS
​

Your "Clean Car Forever" package becomes available on the anniversary of your completed repair date. King Collision Centers will contact you via email within thirty days of your anniversary date to remind you of this offer for a free car detail.
Clean Car Forever customers may now select our new Upgrade Special which includes our Classic Detail plus atomized wax application + wheels & tires cleaned for just $99!  Custom upgrades are also available.
Rules:
Clean Car Forever may only be redeemed at the shop where your vehicle was repaired.
Clean Car Forever must be redeemed within 120 days of your repair anniversary.
Only the vehicle that was repaired at King Collision Centers qualifies for this Clean Car Forever offer.
Only one free Clean Car Forever cleaning may be redeemed per year, per vehicle.
Please plan to leave your vehicle at King Collision for the entire day. We cannot guarantee to complete your Clean Car Forever cleaning while you wait.
Offer becomes null and void after appointment no-show.  You will be eligible again on your repair anniversary next year. Please contact us to cancel or reschedule your appointment.
Terms and Conditions
*Clean Car Forever offer does not transfer to another vehicle or any other owner of the repaired vehicle. Offer valid on all vehicles repaired on or after May 1, 2012 at King Collision Center of Pembroke or Plymouth. Offer expires 120 days after repair anniversary date. Clean Car Forever cleaning has no cash value, may not be redeemed for cash or credit. Customers with totaled vehicles are excluded from this offer. Parts-only customers are excluded from this offer. Offer subject to change without notice.
**Price of detailing services subject to size and condition of the vehicle.
:
booking calendars


Two Clean Car Forever appointments are available Monday-Thursday at each location. Appointments are for the full day and require your car to be dropped off by 9AM. Please remove all personal items from car prior to dropping off.



Select date below from the King Collision location that repaired your vehicle.