King Collision Centers are the Most Certified Collision Repair Centers in New England.
---
To become a  Certified Collision Repair Center, we need to meet rigid tooling, training, facility and customer service criteria specified by each car maker. Right now, becoming Certified is voluntary for shops and requires major on-going investments for compliance.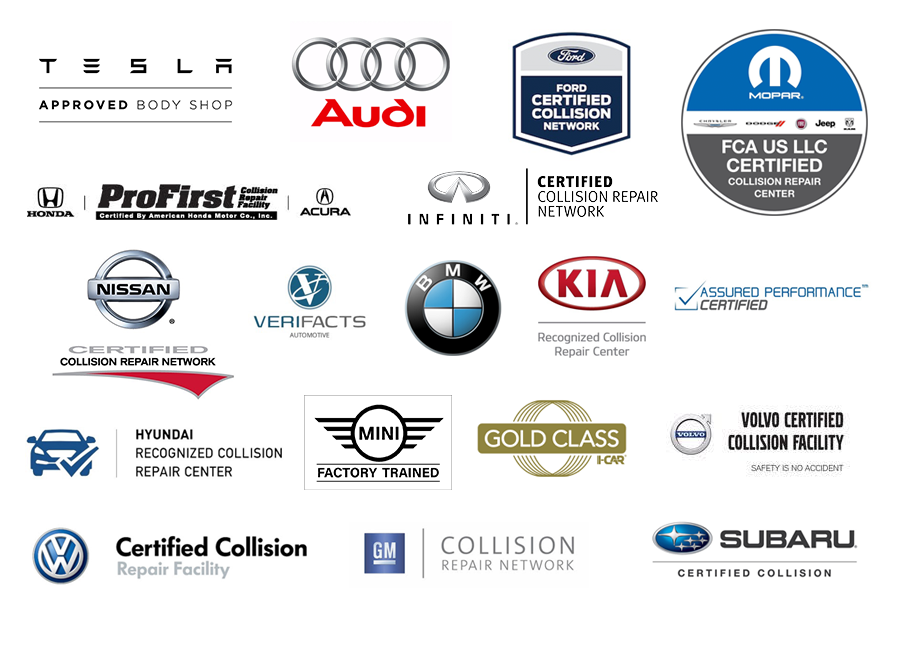 ---
King Collision's Certifications mean:
We deliver factory-approved repairs, using current OEM repair procedures, validated and tested by your car maker's engineers.
We are verified by your car maker as the most technologically advanced collision centers in New England. Our shops are regularly audited to ensure we are equipped with the latest tooling required to repair today's connected vehicles.
Our technicians receive the most brand specific advanced training.
Our goal is to use 100% OEM brand name parts that are engineered, manufactured and tested to maintain the original performance of your vehicle.
We are grateful and honored to have earned the trust of so many vehicle manufacturers who have chosen to partner with us because we've demonstrated our commitment delivering safe, proper repairs.
We've made the commitment to Certifications because your safety is our top priority. Collision repair isn't just about making your car look better after an accident; it's about restoring your vehicle's systems to pre-accident condition, so they will function properly to protect you in a future collision.
Only Certified Collision Centers have access to OEM repair sites to research the latest repair procedures, are verifiably equipped with all the required tooling needed to correctly repair your vehicle, receive brand-specific advanced training, and use 100% OEM parts.
When you pick up your repaired vehicle from King Collision Centers, you can trust that it was repaired according to factory specifications by properly trained technicians using the right tools and OEM brand name parts. All backed by a Lifetime Warranty and Certified by your car maker.
Any shop can say they repair cars correctly, but if they're not Certified, they don't know what they don't know!